Marketing is a weapon; if performed strategically, it can do wonders for your business.
Why do you market your business? Because you have to defeat your competitors and stand out from all.
Like any kind of marketing, digital marketing also needs a strategy to generate the expected win. An online marketing strategy that you work out to achieve certain objectives. You often don't get very far without a strategy.
With only being present on social media and posting something once a month, you will not bring in new customers. If your one-time post is purely business-oriented, then you can forget it completely.
Take yourself as an example and ask yourself the following question: why do you go on social media?
We assume your answer is something like "I like to keep up to date with my friends" or "When I'm waiting for the train, I sometimes scroll through my feed". It certainly won't be that you're looking for a post with a sales pitch and a link to buy some product.
Similarly, your customers don't want to see your service; all they want is a solution to their problems.
In short, to ensure all your marketing activities are shooting as expected and support your business objective, all you need is a digital marketing strategy. It is basically a plan of action with the aim of promoting a business through an online medium.
Need of a digital marketing strategy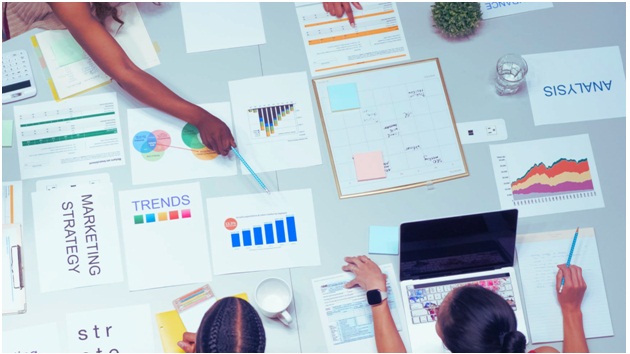 The biggest online brands have one thing in common: they are all innovative. To be innovative, there must be a direction, just like a goal, and therefore a strategy. After all, there are countless developments in the online world.
To know the requirements of a strategy, first ask yourself why digital marketing fits with your company and what your business goals are. Following points will help you understand the need for a strategy for your business marketing:
Businesses without a strategy don't have a clear goal about what they want to achieve online. A strategy creates support and bonding. If you don't have a goal, visitors can continue to flow in, but there is a good chance that you will not achieve enough results.
Don't you pay enough attention to online marketing, and do you opt for an impulsive and aimless approach? Then your competitors will siege your customers. An online strategy is crucial to stay ahead of competitors. Otherwise, your target audience will find the answers on your enemy's site, and their needs will be properly met there.
When engaging with customers, strategy is essential to make them your company's ambassadors. Speak to your audience, captivate them, and keep yourself captivated. Moving strategically also helps you to know the customer demand for online services.
Online marketing is continuous optimization and, therefore, continuous analysis. With a digital marketing strategy, you know that analyzing and optimizing becomes one of your regular pillars. This way, you can ensure more grip and more progress.
Waste cannot always be prevented, especially wastage of time and money. Even if you have sufficient financial resources, it is important to use them in the right way. A clear strategy comes to work here.
Objectives of a strategy
Digital marketing is used to achieve multiple objectives. There are various forms of marketing that, individually or jointly, directly or indirectly, contribute to achieving the following:
Increasing brand awareness and strengthening brand identity
Attracting new customers and optimizing customer retention
Providing a unique customer experience and building a loyal community
You have to set these objectives as per the needs of your company. These objectives have to be SMART goals, i.e., specific, measurable, achievable, realistic, and time-bounded.
How does digital marketing strategy work for your business?
What is the actual goal of creating a digital marketing strategy? Ensuring that your potential customers know you, trust you, and show an interest in purchasing your product or service. This strategy aims to attract and retain customers in a reliable, consistent and measurable manner. Also, a digital marketing strategy will rank you higher on search engine results and you will get more customers. For example, someone searched columbus digital marketing agencies on Google, the one having the best digital marketing strategy will rank higher.
Inbound Marketing
Digital marketing makes inbound marketing a reality. Inbound marketing means that certain funnels can be created that generate leads and convert them into paying customers. This is done by optimally arranging the online channels, tools and forms to each other, with which this process automatically and permanently generates leads.
Segmentation and targeting
With a strategy, the target group is segmented and approached through various channels (cross-media). The repeated exposure to a marketing message or brand makes it extra powerful and ensures that it stays with the target group. Also, no effort or budget is lost to people who do not fall directly within the target group.
Analytics and insights
Digital channels typically provide the ability to analyze traffic, reach and various results. This provides insight into the effectiveness, and the marketing strategy can be adjusted to improve results, which ensures maximum ROI.
Do you want to create a digital marketing strategy for your business but don't know where to start? We, as your digital marketing agency in India, USA, Canada, UK, will help you with your business growth. In our next article, we are going to share the reasons why most marketing strategies fail and how to fix those hurdles to create a successful digital marketing strategy. Stay tuned!